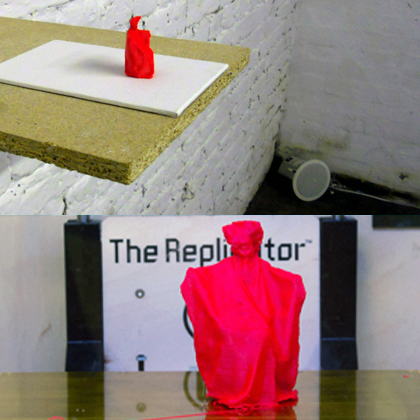 - Artist Beatriz Albuquerque
- Title Sound Sculpture: A Poet in New York
- Medium Sound Installation
- Year 2012
- Duration 18 min. 54 sec.
- Material ABS 3D sculpture, speakers and CD player.
- Place of event 2012, The Mews Project, London - England / Mobile Radio da Bienal de Sao Paulo, Sao Paulo - Brasil / Radio Zero, Lisbon - Portugal.
- Description
This sound piece comes in the "shape" of a "Sound Sculpture: A Poet in New York", coming in continuous to her sculpture score sound series and her Project "A Poet in New York" that started in 2010. This sound piece is a recording of a 3-D sculpture score with 1 inch (2.54cm). The sculpture is an exact proportional replica of the artist's body in the contra torso position (a reference to classical Greek sculptural form), while wearing a costume part of her performance "A Poet in New York".