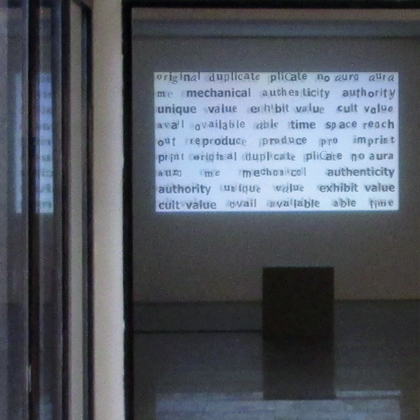 - Artist Beatriz Albuquerque
- Title Art in a Time of Uncertainty (serie)
- Medium Video Installation
- Year 2020
- Material list 1 video projector & DVD player.
- Duration 1m 45sec
- Place of event 2020, Forum Maia Gallery, Maia - Portugal.
- Description
On March 11, 2020, the World Health Organization declared the pandemic outbreak COVID-19. Based on the uncertainty of tomorrow and, subsequently faced with a global crisis, I created a set of videos based on my deconstructed, conceptual experience, derived from my empirical experience, from this new way of living and being. This new serie is called "Art in a Time of Uncertainty" (Arte num tempo de incerteza). This is the 1st video from this serie, with the title "W. B. Art in a Time of Uncertainty". This Video Art is also associated with the relationship between invisibles structures, virtuality drawn upon the ideas of Walter Benjamin, while using visual poetry to transmit it and creating a temporary identity of what we are living in now.