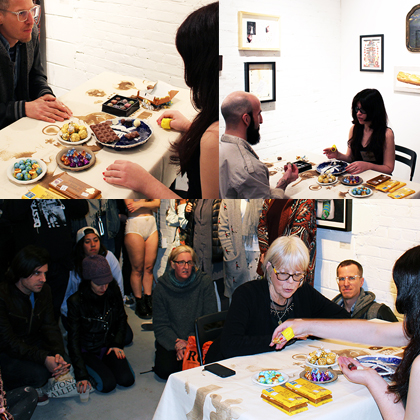 - Artist Beatriz Albuquerque
- Title Predict the Future through Chocolate
- Medium Performance
- Year 2014 - 2016
- Duration 30 min
- Material 1 burned tablecloth, 30 chocolates, 4 ceramic sculptures (chocolates), 2 ceramic sculptures (plate), 1 3D printed ring, 1 tent, 1 table and 2 chairs.
- Place of event 2016, Local Projects, Long Island City/New York - USA.
- Description
In "Predict the Future through Chocolate", Beatriz Albuquerque presents this interactive performance in an intimate and informal context, this performance will invite everyone from the audience to learn about the future through the reading of the chocolates by the shamen Beatriz Albuquerque. The chocolates will be thrown like dice. It will be up to the public to believe it or not!